This snow profile is from the Vanoise for today showing the facetted and depth hoar layer that was possibly responsible for yesterday's avalanche in the Manchet. There is also a fairly strong temperature gradient at the altitude which may lead to some more facetted snow growth.
This graphic is from the CEN and is no doubt why they are keeping the risk in the Savoie at considerable at this altitude.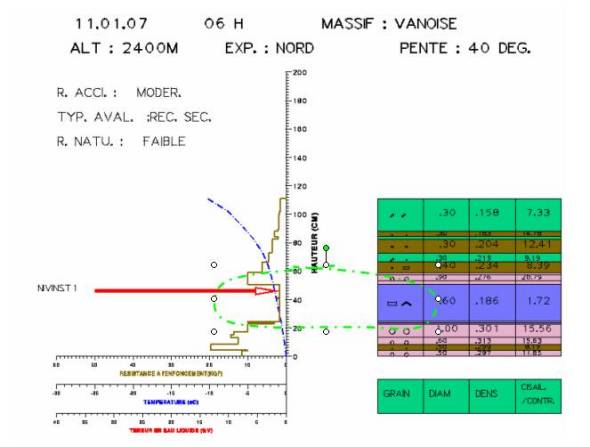 Posted by
davidof
on Thursday, 11 January, 2007 at 02:32 PM
Just to clarify, the guided group was NOT with Alpine Experience but with an instructor from another Val D'Isère ski school, the information referred to was from Wayne's daily update on our website http://www.alpineexperience.com under "news". Andreas
Posted by on Friday, 12 January, 2007 at 10:05 PM
Thanks for highlighting that Andreas, the article is confusing and I will go back and edit it.
Posted by
davidof
on Sunday, 14 January, 2007 at 05:27 PM