February already but finally something to be cheerful about. The weather system that crossed France on Friday night was stronger than expected and brought around 20 to 40 cm of fresh snow to the mountains with snow falling down to 800 meters. However all this was accompanied by some very strong winds. We had some fun up on the Saleve above Geneva on Saturday before heading to the Trou de la Mouche above la Clusaz for Sunday morning.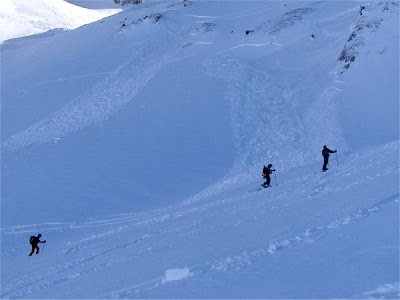 The avalanche risk was 3 above 1600 meters on Sunday but dropped to 2 on Sunday below 3000m. The snowpack has been well consolidated at mid altitudes by the strong January freeze/thaw cycle. The main risk was slabs sliding off the hard, old snow and was saw evidence of this on Sunday morning. These slides were trigged between when we climbed at 10am and when we skied back down at 11h30. Note the late skiers still heading pushing the summit. Not such a big deal in such a cold, shaded bowl. There is quite a lot of facetted snow on north faces which will form a weak layer. The fresh snow could be described as "slabby" - consolidated by the wind transport which you can see in this photo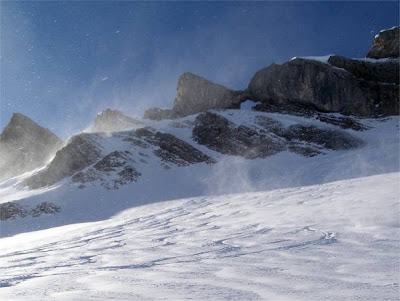 There has been heavy precipitation overnight but it is warmer so snow has been falling about 800-1000 meters.