Part I:
Sunday begins to dawn as we drive to the old village Ste. Foy - our meeting place for today's adventure. The Hotel Monal bar is buzzing with the banter of dozens of skiers & guides and a coffee and croissant are obligatory as we wait for Laurent Camus, our notable guide – 'Le meilleur de les meilleur!'
We leave about 08:15 to put my Landrover in position at La Masure, where we will finish today's trek and then we head for Station de Ste Foy with Laurent. No time is wasted in ascending the chairlifts, even though Ste. Foy appears deserted and we don't see a single skier from the moment we get our passes until 17:00 in the evening!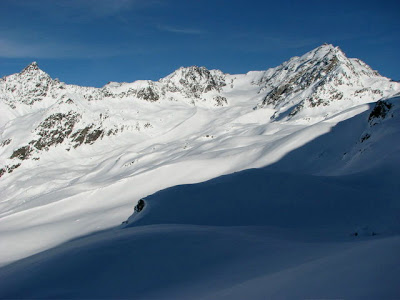 Descent from the Louprama to the Ruitor
We depart La Marquise chair and push on up at a pace. Today is going to be warm & already it is 9 degrees and not a cloud in the sky. The best skiing will be found on North and North West aspects and our cunning plan is to ski both the North face of Col Granier and Louprama. However, we have to climb them first and a minimum of 3 wetabix is mandatory. We engage the first climb and absorb the majesty of our surroundings. I can hardly contain my excitement – this place is so fantastic. In our enthusiasm we ascend rapidly to about 2550m and behold the first prize. 'Behold oh most beautiful slope without any tracks!' Laurent has to cut out the cornice fairly carefully and we assess the fairly steep entry. S. asks if it is a precipice, to which Laurent answers Yes!, just before jumping in ….. We both follow into another world … the snow is deep, but with a thin crust, which isn't bothersome – it's just like skiing through icing sugar! We ski one at a time on the steepy bit with short turns to put minimum pressure on the snow and then Geronimo! The 'swishing' noise in our wake sounds mystical and we don't stop until we reach the little Chapelle St. Roch, near the Refuge de l'Archeboc, with legs burning, but souls content and mouths agape. Radio Ga-Ga again …
Little delicacies are had for a snack and with skins on we ascent towards the Sommet du Louprama. Although it's only about 600 or so metres of climbing, it's quite steep and about ¾ way up I find myself in trouble – big trouble. For some reason and it's the first time it's ever happened, my skins are saturated and are picking and holding up big clods of snow, making the skis and the going very heavy. The added weight is killing my legs and draining energy rapidly. All singing has been temporarily suspended ….. About 100m from the summit my tank hits empty, but our all-knowing guide Laurent 'conveniently' declared a nearby pile of rocks our 'intended' lunch table. The lord moves in mysterious ways. I am now a very happy lapin, but have to wait a few minutes for enough energy to eat. On today's menu, pain au beaufort avec lardons and brie, followed by Bun Type No. 2 and washed down with a litre of 'smoothie'. I feel absolutely shattered and speak very crossly to my BD skins. (They sulk and must have communicated their displeasure to my BD poles, for no sooner than we set off than I break a pole just above the basket. Exclamation, followed by exclamation No. 2! …. This is not the place to be without a pole and luckily I have a repair kit of a couple of jubilee clips and splints, which combined with duck tape effects a good repair.)
Laurent opts to get to the face via a short couloir, rather than the sommet proper which is about 80m higher. My legs don't like the sound of a steep couloir and I have to give them a good pep-talk. It is with some trepidation that I jump off, but my little brain overrides all 'body-complaining-departments' and initiates the "Oh Merde" procedure. Although steep, it is beautiful, 'grippy' snow and brain goes back to Defcon 3 after the first turn.
We are now in 'The Promised Land'. This is something else. No one has been here this season and this slope is absolutely stupendous – it is absolutely majestic … and it's all ours …. Laurent 'gifts' me the slope, but I protest as with tired legs I don't want to ruin it for the others. He insists and there is probable method to his madness, as he knows, that I know, they will both be watching me and natural pride will surface – although pride usually comes before the fall …. I do promise my legs a good rest later and jump off towards the Refuge du Ruitor, determined not to let down my Nation or Clan ….
-- from JB Condon's ski diary