Grande Motte Cable Car Closed, Pal Arinsal Open
The Grande Motte cable car in Tignes will be closed until at least Christmas Eve (24th December). Marlène Bodar of the Societie de Telepherique de Grande Motte told Pistehors that accident was caused "by exceptional frost conditions at altitude on the 11th of November. A rapid thaw around mid-morning caused all ice to fall from the cables at once, this rapid unbalancing damaged both cables and cabins and lead us to suspend operations."
It has been estimated that the weight of the ice amounted to several tonnes. The cable cars have been seen undergoing tests recently which is a good sign. The damaged car had a blue plastic sheet covering part of the front.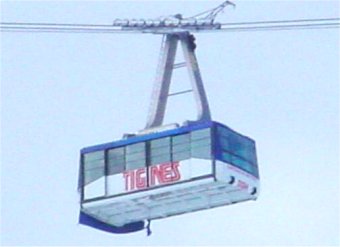 The damaged Tignes Grande Motte Cable Car
On a happier note it seems that The Daily Telegraph Off Beat Ski Guide claim's regarding the closure of the Pal - Arinsal cable car link are so off beat as to be incorrect. The Off Beat guide apparently says that following a spat between the directors of the two resorts the link would be closed for the 2002/2003 season. Our local contact, Phil Urge, who was in the resort today, used the link and spoke to the directors who described this story as 'utter nonsense'. They will be working of future joint developments in the coming year.

Posted by
davidof
on Wednesday, 18 December, 2002 at 07:07 PM
Comments are now closed