<< Reading the Avalanche Bulletin | Avalanche Avoidance | Avalanche Start Zones >>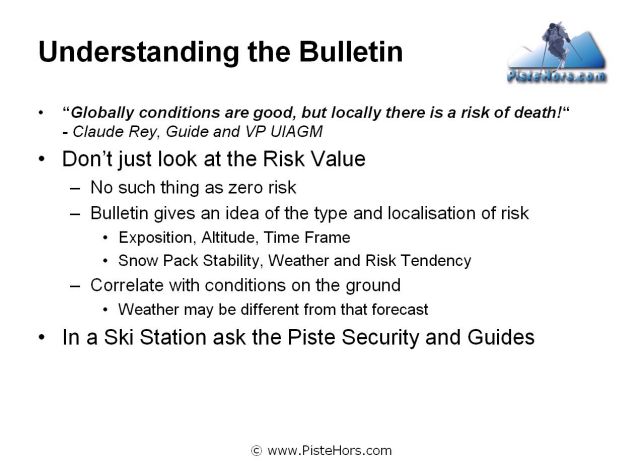 The guide Claude Rey summarised the situation with the following phrase:
"Globally conditions are good, but locally there is a risk of death!".'
After weeks of snowstorms and high risk the level drops to 3 or even 2 and this can be the signal for skiers to head off-piste to whoop it up in the powder. But remember that around 75% of fatal accidents occur at these risk levels. The Avalanche Bulletin is designed to be read in its entirety. The text gives and idea of which slopes are prone to risk in terms of exposition, altitude and time frame and provides the weather conditions, the stability of the snow pack and the evolution of the risk.
The avalanche bulletin only covers areas where snow accumulates naturally – not ski pistes or zone where avalanche blasting takes place. The bulletin is designed to be representative of current and conditions over the next 24 hours only. Remember that there is no such thing as zero risk. The bulletin should be used in conjunction with other indicators. Experienced skiers may use it to choose less risky routes and may be able to ski in relatively safety even under higher risk values of 4. Always correlate the bulletin with the conditions you find during on the ground, conduct your own tests. Especially true if weather conditions differ from those forecast.