Avalanches > Avalanche Avoidance > Reading the Avalanche Bulletin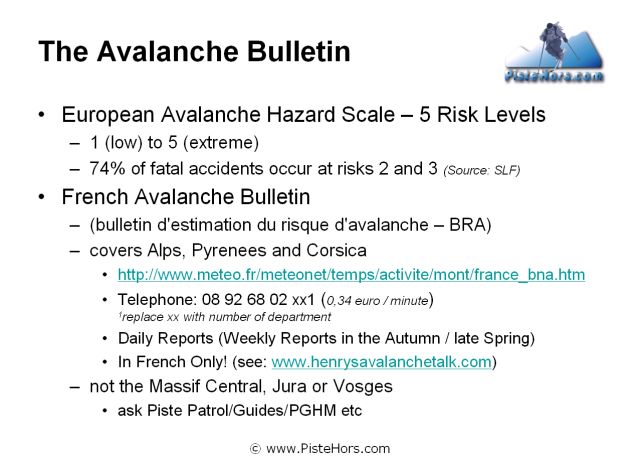 The French avalanche bulletin is issued for mountain ranges in the Alps, Pyrenees and Corsica. It is prepared from data delivered twice daily from 140 observation posts situated between 1500 and 2000 meters altitude and typically collected by ski professionals. The data comprises cloud cover, wind speed and direction, temperature, precipitation, depth and quality of fresh snow, total snow depth, observed avalanches. 15 automatic stations situated between 2000 and 3000 meters provide additional information, these can be accessed online at:
http://www.meteo.fr/meteonet/temps/activite/mont/nalpesn/prev/masniv.htm
The data is processed at 9 centres situated locally in the departments covered by the bulletin. The Bulletin typically covers an area of some 100 km2+ but local avalanche bulletins may be available in ski stations, for example Val d'Isère has bulletins for the Iseran, Solaise and Bellevarde sectors posted at the top of the lifts and prepared locally in Bourg St Maurice. The bulletin is issued daily between the 15th December and 30 April at 16h00 hours in is valid only for the following 24-hour period.
Between the 1 November and to the 15 June a bulletin is issued every Thursday. Backcountry skiers should be aware that conditions can evolve considerably over the week and the information is not very complete. On the 8th December 2002 5 ski mountaineers were killed and 5 injured believing the conditions to be safe. It should be remembered that the majority of accidents happen at risk 3 (considerable) and 2 (moderate), largely because there are more off-piste users. Risk of 3 still requires very careful route planning and risk evaluation on the day.
The bulletin gives an overall risk hazard evaluation from 1 (low) to 5 (extreme).
Travel in avalanche terrain should be avoided and travel confined to low angle terrain well away from avalanche path run-outs. 2% of all days and 6% of all accidents.
<< | Avalanche Avoidance | Understanding the Avalanche Bulletin >>